Western Canada's Top FBO
Sunwest Aviation has been voted Western Canada's Best FBO for a second consecutive year (Source: Wings Magazine). Sunwest launched the FBO business line in 2018 when the company was named the Official Shell AeroCentre at the Calgary International Airport. In 2019, Sunwest was awarded the Wings Magazine, Rising Star Award, followed by Western Canada's Top FBO in 2021 and 2022 based on the Wings Magazine FBO Survey.
With over 35 years of aviation experience including aircraft charter, management, and maintenance, the addition of the Fixed Base Operations was a natural progression. The Company's experience and commitment to aviation excellence built over several decades are key factors in the achieving success and the recognition received within a short time period of becoming an FBO.

Sunwest sincerely thanks our clients, passengers, and partners for their continued support. And to the entire Sunwest Team, thank you for going above and beyond every single day.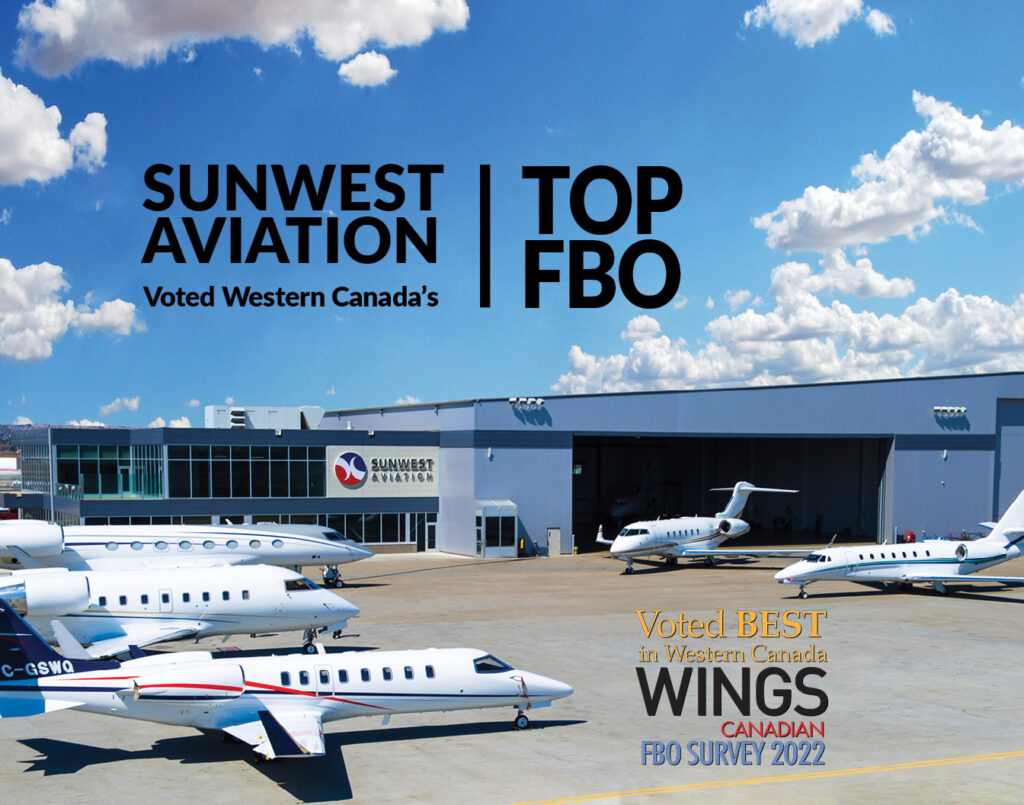 About Sunwest Aviation
Sunwest Aviation is a Canadian Operator based in Calgary, Alberta that offers Aircraft Management, Aircraft Charter, and Air Ambulance services with a fleet of over thirty aircraft ranging from a King Air 200 to a Gulfstream G50ER. Sunwest is a Transport Canada Approved operator, and holds the ARGUS Platinum, IS-BAO Stage Three, and EURAMI Certifications. Sunwest is also the official Shell AeroCentre branded FBO with award winning services at the Calgary International Airport.
Glossary
Aircraft Charter
Aircraft charter, also known as air taxi, is the business of renting (chartering) an entire aircraft. Rather than purchasing individual seats on a scheduled and shared flight, charter clients have access to the entire aircraft and determine the schedule along with the departure and destination airports. This is commonly referred to as Business Aviation, or Private Aviation.
Aircraft Management
Aircraft Management is a turnkey service that allows individuals or businesses who own an aircraft to outsource all aspects of operating the aircraft – including flight operations, crewing, maintaining, repairing, and accounting – to a professional aircraft management operator.
Air Ambulance
An air ambulance is a helicopter or fixed-wing aircraft outfitted with specialized equipment to transport patients who are too ill to fly commercially or in need of medical emergency transportation (medevac). These services are often referred to as Aeromedical operations.
Fixed Base Operator (FBO)
An FBO is an organization with the right to operate at the airport and provide aviation related services including fueling, tie-down and parking, hangarage, aircraft rental, aircraft maintenance, and similar services. An FBO is the primary provider of aviation support services to general aviation operators.